King's Lynn Golf Club
22 - 24 September 2023
Sussex qualified for the English Women's County Finals following their excellent work at County Week held at Sundridge Park Golf Club in June.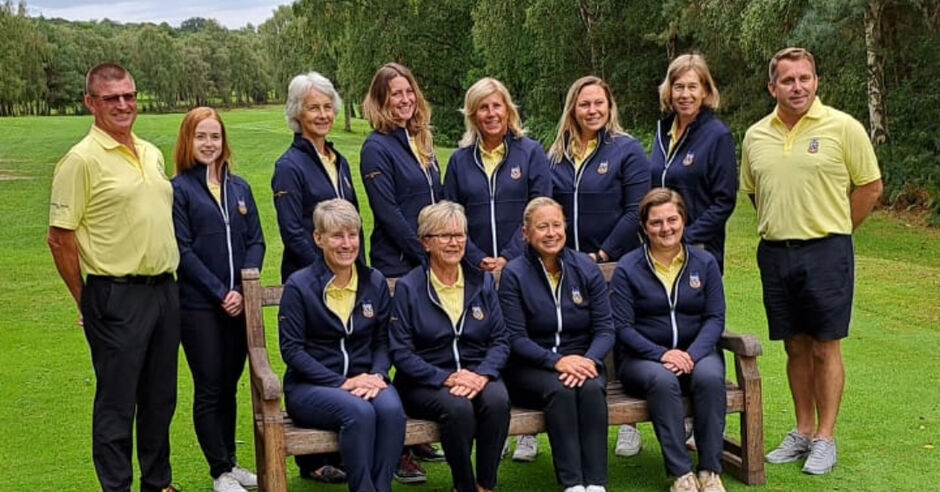 Sussex Team
Chloe Briance, Bognor Regis GC
Sasha Gardiner, Chartham Park
Maddy Harris, Dyke GC
Heather Tidy, Bognor Regis GC
Aileen Greenfield, Pyecombe (not pictured)
Emma Carberry, Pyecombe
Karen Sykes, Worthing
Clarissa Bushell, West Sussex
Emma Whitlock, Sweetwoods Park
Katherine Russell, Royal Ashdown Forest
DAY 1
Our first day saw us face Essex, a match we knew would be challenging. We started well with Heather getting an Eagle on the 4th hole which fuelled them for the rest of the match and set them up for our first win of the day. Sadly we were not able to maintain this winning streak, however two of our matches could have gone either way. We concluded up with a 2-3 loss in a very close fought match.
After a brief turn around and team talk we were back out to face Lincolnshire in the afternoon match. Chloe and Heather secured another win for the team followed by Emma Carberry securing her second win of the day. Karen Sykes and Maddy Harris gave us a half point but sadly despite some very close battles we were unable to secure any further points with the match ending in a half.

DAY 2
Saturday morning started much cooler than yesterday. One of the biggest surprises for the team were the amount of Mosquito's and Horseflies around. No one had expected it but with the recent wet weather and now sunshine they were out in force. So armed with plenty of bug spray we set out for day 2 of the finals.
First up were Chloe Briance and Heather Tidy who started with a lovely drive straight down the middle. Next came our second foursome of Karen Sykes and Maddy Harris. This was followed by the first of the 3 singles matches of Katherine Russell, Aileen Greenfield and Emma Carberry.
At the half way stage we were up in two matches, down in two and all square in the other so everything to play for on the back 9.
Dorset then completed 2 matches to go two up so it was then all down to the final three matches, Emma Carberry got one back for Sussex by winning 3 and 2. This left two matches to go to the 18th. First up was Karen and Maddy who putted well to get the first of the two wins needed. In the meantime Aileen Greenfield won the 17th to take her match to the 18th where she halved her match resulting in a tie with Dorset.
In the afternoon we were up against Yorkshire with Chloe Briance and Heather Tidy once again leading the charge followed by Sasha Gardiner and Emma Whitlock. The 3 Singles matches were Clarissa Bushell, Aileen Greenfield and Emma Carberry
Sadly the results didn't go our way with only Emma coming back from 4 down to win her match but the results are not indicative of how close some of the matches were and could easily have gone the other way.
DAY 3
We awoke to rain and wind on our final day but fortunately soon stopped with the wind helping to keep the dreaded mosquitos at bay.
We were playing Buckinghamshire who had already accumulated enough points to win the finals but we still had our honour at stake to try and beat them. Our team of the day were our Bognor duo of Chloe Briance and Heather Tidy followed by Aileen Greenfield and Maddy Harris. The 3 singles matches were Clarissa Bushall, Sacha Gardiner and Emma Carberry.
Everyone was very excited standing on the first tee and there was great support and cheering for both teams.
Watching the teams tee off the standard of play was extremely high and we knew we would be in for some great matches.
Sadly we didn't manage to beat the in form Buckinghamshire squad who won all 5 of their matches but well done to Aileen and Maddy for bringing home a point for Sussex. The final scores both in this match and the tournament in total don't reflect how close some of the matches were where many of the games could have gone eitherway. Sometimes it was just the bounce of the ball or a tree branch sticking out that made the difference.
King's Lynn presented their course in a lovely condition and looked after the teams very well. They even allocated each team an ambassador from their club for the 3 days who looked after our every need. Well done Mary.
At the end everyone had had a great time either as a player or supporter and reflected on what a great achievement Sussex had achieved in reaching the finals. Thanks must go to Ryan Fenwick our coach and our great Captain Jane Covey (and husband Alan) for all the hard work they put in to support the team. The future looks bright for team Sussex.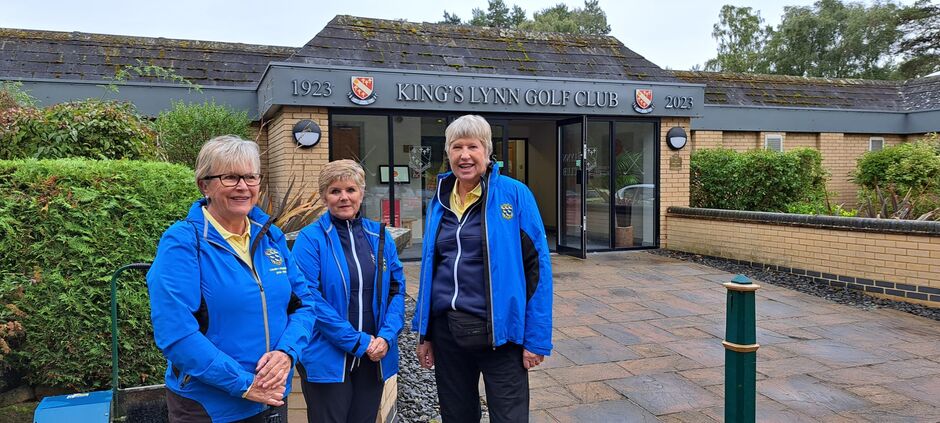 .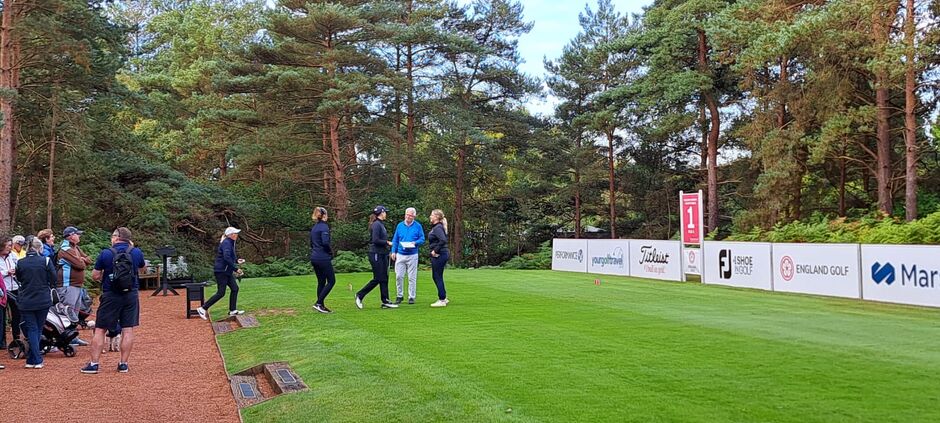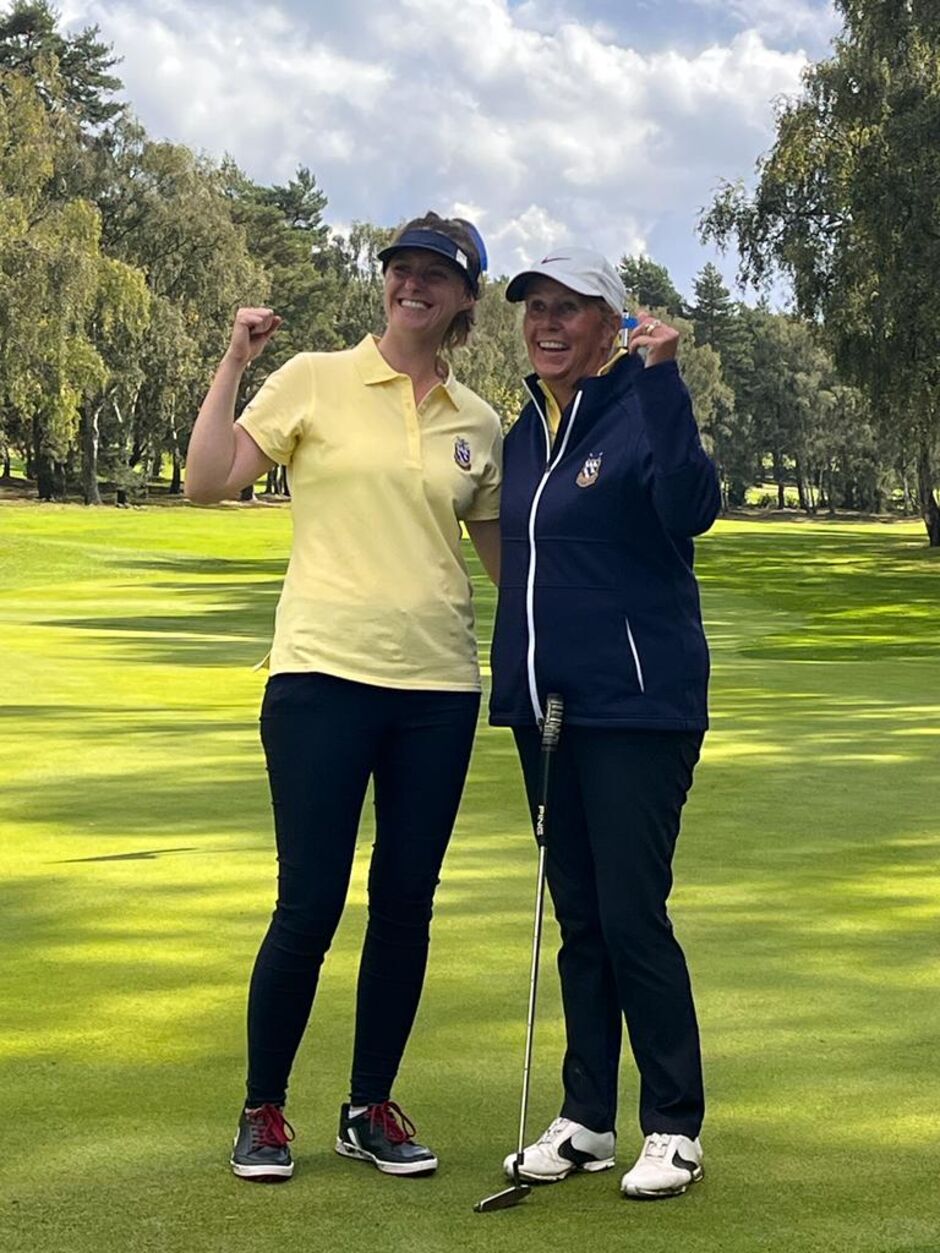 .