Jane Covey
President
Ifield
Jane joined the SCLGA in 1999 and held the position of Competition Secretary from 2000 – 2005 and went on to be County Captain from 2009 -2011
In Jane's Captaincy the county team were successful in winning County Match Week two years in a row representing the South Region in the National Finals in Derbyshire and Essex.
This is Jane's final year in her role as President and she looks forward to supporting all the teams in their competitive competitions during the year again.
T: 07881 720489
E: Jane Covey

Pat Johns
County Captain
Dyke GC
Pat's been playing golf since 2000 and her handicap is 12. She began golfing at Hassocks and moved to Cottesmore in 2005 where she became Lady Captain in 2015, following her retirement from teaching Pat moved to Dyke GC. She served on the County Committee for S years as Junior Organiser from 2013-2017 and really enjoyed the experience, learning about the County organisation and working with the girls. She embarks on her 2nd year as County Captain in 2021 and hopes that normal service will resume in 2021 with the Inter- Club Championships, the Morrice Foursomes and the County Competitions in a Covid friendly manner!
M: 07833 510712
E: Pat Johns

Sue Rushworth
Competitions Director
ROYAL ASHDOWN FOREST
Sue has been a member of Royal Ashdown Forest for over 10 years. She has held various committee positions there in the past including Handicap Secretary and Junior Girls Organiser and latterly Lady Captain. She plays as part of their Division Il team. Sue is Competitions Director for 2021/22 taking on the responsibility for organising all the SCLGA Competitions during the year.
T: 01342 822326
M: 07802 288137
E: Sue Rushworth

Margaret Brown
Secretary
Mannings Heath
Margaret moved to Horsham in 1989 to work for Sun Alliance and was introduced to golf by a colleague at work. She then joined the newly opened Slinfold Park GC and was immediately asked to help them form a committee later going on to be their Captain in 2002. After a few years at Gatton Manor and another spell as Lady Captain, she returned to Sussex and joined Mannings Heath GC. Once again she took on the Lady Captain role, this time for 2 years in 2019 and 2020. She retired from the world of Insurance and Project Management a few years ago and now spends most of her time playing golf, visiting the Algarve or volunteering at Leonardslee Gardens.
M: 07710 307444

Alison Hopson
Finance Director
Royal ashdown forest
Alison has been a member at Haywards Heath since 2010. She served on the ladies committee for 6 years, 4 years as Hon. Treasurer. She has 2 children, now both at University and this has given Alison more time to dedicate to playing and practicing her golf. Alison became a Div 1 player in 2018 and hopes to reduce her handicap further. She starts her 2nd year as County Treasurer having established new processes and financial reporting for SCLGA Ltd during 2020. Alison is looking forward to working with newer members of the committee.
M: 07941 804540
E: Alison Hopson

Louise Simmons
Junior Golf Director
Dale Hill
Louise first played golf in 2003, and has been at active member at Dale Hill for 15 years. Louise was Lady Captain in 2013 and has held many other roles within the ladies section, she is also a qualified Level 1 coaching assistant, and holds a Mind Factor certification as a Mind Coach. Louise has a passion to work with juniors of all abilities at club and county level, and is currently Junior Organiser at her home club - having built up a strong and active junior section over the past 6 years, which now includes a number of girls within the membership.
T: 01424 772107
M: 07590 848720
E: Louise Simmons

Céline Graciet
Communications Director

Dyke
Céline started playing golf by mistake 9 years ago and now does little else. She is responsible for the SCLGA communications through its website and social media accounts (Facebook & Instagram). Please contact her with any club news, exciting and fun features or any website issues.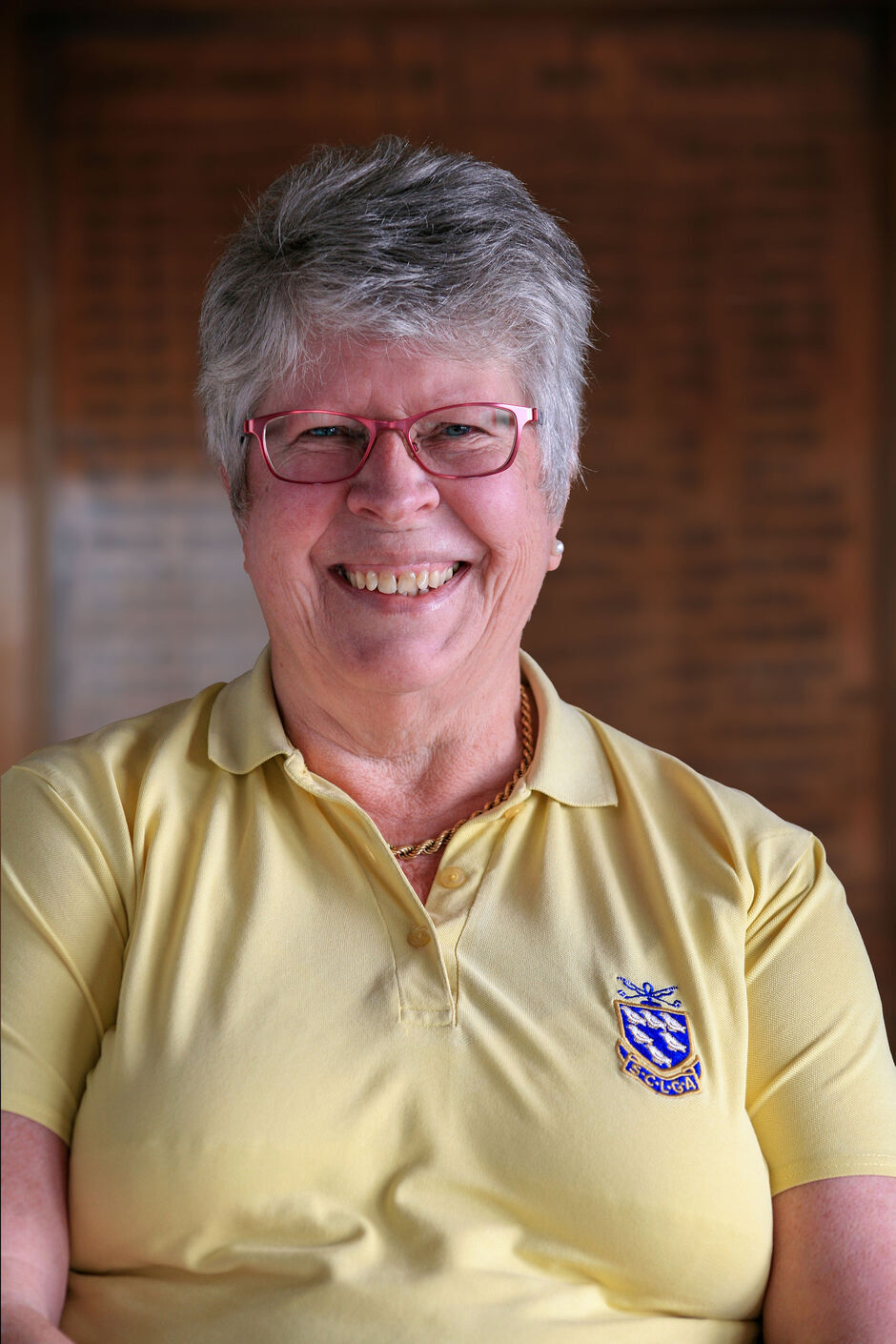 Sue Smith
Sussex Ladies' Voting Member for
England Golf
CROWBOROUGH BEACON
Sue represents Sussex at national level with England Golf. She took up golf over 20 years ago to join husband Ray, an avid golfer who is President of the Sussex County Golf Union and actively involved in a variety of roles within England Golf. Although she's not managed to get her handicap below 30, Sue says she's still just as keen and very enthusiastic to be involved in "social golf"!
T: 01892 661316
E: Sue Smith




















Carolyn Tanner
Competitions Committee Secretary
ROYAL ASHDOWN FOREST
Carol yn has been learning to play golf on and off for the last 10 years, and is still striving to improve and reach the elusive under 20 handicap! Retirement has allowed her to play more and after 3 years as a member and then Lady Captain at Ashdown Golfers she now plays and is a committee member at Royal Ashdown.
She is looking forward to undertaking the new role of SCLGA Competitions Committee Secretary and will also be assisting in the running of the Glenda Ricketts Memorial Salver.
M: 07765 395794
E: Carolyn Tanner
Janis Kinnear
Div 1 Secretary
COPTHORNE
Janis joined Copthorne Golf Club in 1990 as a beginner. She served as ladies' secretary and then later Ladies' Captain in 2008, serving on the committee for 10 years. The club became a central part of family life, with both Janis' husband and daughter being members. Janis quickly improved due to family competition and has played in Division 2 for many years enjoying the friendly but competitive matches. Having recently retired she is able to play more golf on a social basis but would like to think she can still improve her game. Janis joined the SCLGA committee in 2020 and for the 2022 season is responsible for Division 1 matches.
M: 07801 420838
Debby Gill
Div 2 Secretary
Mid Sussex
Debby started playing golf 7 years ago, having previously been involved in a number of different sports including athletics, hockey and equestrian, both as a participant and as an organiser. She came to golf relatively late in life but loves the challenge of playing a sport where she can still continue to improve - even in retirement!
Debby plays at Mid Sussex where she is currently lady captain and also manages the Div 3 team. She has a handicap index of 22 but is still hoping to become a golf handicap teenager at some point!
M: 07745 835582
E: Debby Gill
Jill Miles
Div 3 Secretary
Singing Hills
Jill plays golf at Singing Hills where she has been a member for over 11 years. She has captained the Morrice Foursomes team for the last three years and has deputised for the Division 1 captain when needed. Jill was Head of a PE Department and is keen to be involved in the SCLGA Committee. Jill has been responsible for Div 3 since 2020 in the Inter-club Championship.
M: 07920 229483
E: Jill Miles
Juanita Barnes
Div 4 Secretary
East Brighton
Juanita has been a member at East Brighton GC for the last 11 years, serving as a Board Director for the 7 years and an active member of the Ladies Committee where she has helped organise events, lunches and dinners. Prior to retirement she spent 20 years working for a London University. She now spends one day a week cooking for Supported Housing. Juanita joined the SCLGA Committee at the end of 2019 and for the 2022 season is responsible for Division 4.
M: 07710 573535
E: Juanita Barnes
Emilie Hunt
Morrice Foursomes Organiser
West Sussex
Emilie started playing golf in 1985 when she and her husband moved to Nigeria and their two daughters had gone to boarding school in UK. After further postings overseas they returned to the UK 20 years ago. Emilie has been a member at West Sussex since 2008 where she has captained the Div 3 team four times and served on the Club Committee. She was Lady Captain whilst in Nigeria and at West Chiltington in 2003. She loves playing golf and would like to improve her handicap of 24. For 2022, Emilie is responsible for organising and running the Morrice Foursomes Competition.
M: 07941 815360
E: Emilie Hunt
Jo Maddams
Committee Member
Slinfold
Jo is a member of Slinfold Park and has been playing golf since 1993. She's held various positions on their Ladies committee, including Lady Captain (2003), Handicap Secretary and is presently the Ladies Treasurer. In addition, Jo is a qualified Level 2 Referee and has been an assistant referee at some Pro Tournaments this year. Jo has been a Guide leader for 25 years and is currently learning Portuguese!
M: 07710 664047
E: Jo Maddams
Jane Buckley
Committee Member
Chichester
Jane Buckley is one of newer Committee Members. She plays golf at Chichester GC and has been their Lady Captain (2018), Ladies Secretary and a Committee member. Jane took up golf later in life after her children had started school. She loves golf and very much looks forward to working with the SCLGA Committee for the next two years.
T: 07809 155767
E: Jane Buckley
Elaine Violaris
Committee Member
Cuckfield
Elaine started playing golf 8 years ago to keep fit. She was bitten by the golf bug and now plays as often as possible.
She was Lady Captain at Cuckfield GC in 2019.


M: 07932 753938
E: E laine Violaris
Levitha Hughes
Committee Member
Nevill

Levitha has been playing golf for over 30 years of which the last 5 years have been at Nevill GC. She's been on Nevill GC Board of Management and Ladies' Committee as Vice and presently Ladies' Captain. Levitha has also lived overseas where she gained experience as Handicap Secretary, Chair of the Rules Committee, Club Secretary and ran the Golf Charity Committee. She's been co opted onto the Competitions Committee for the SCLGA from November 2020.
M: 07710 413843
E: Levitha Hughes