Sussex Champions
Sundridge Park Golf Club
26 - 28 June 2023
Kent hosted an excellent County Week at the Sundridge Park Golf Club, with all matches being played on the East Course. This year was a strongly fought and close tournament with the final result coming down to the last day where one of the 3 clubs playing could achieve success. It all came down to the final match and the final putt so a nail-biting conclusion.

Monday: Our first match commenced with the experienced duo in foursomes of Chloe Briance, our County Champion and her partner Heather Tidy lead the way followed by Ellen Nicholas and Elodie Yates who came in achieving a win of 5 & 4 v Kent. The afternoon selection in the singles format were young guns Maisie Hassall going out first and taking her match to the 18th against a very formidable Ellie Burdis and our rookie Maddy Harris in second place and Sasha bringing in an all square match after 18 exciting holes of match play. Sadly we lost to Kent 1½ to 3½.


Tuesday: An exciting day for Sussex on Tuesday with two thrilling matches v Hampshire and then Surrey securing two wins! Chloe Briance & Heather Tidy again lead the Sussex team out in both matches glory succeeded v Surrey with a win on the 18th to secure their first win in foursomes. Our second pairing an exciting duo of Salysa Mason & Maisie Hassall brought in another win in the foursomes! Elodie Yates secured the win against on the 18th hole to bring in the win of 3½ - 1½. Ellen Nicholas first out in the singles in both matches, brought in a win of 3 & 2 v Surrey.
Wednesday: Going into our last match, we were tied on match points with both Hampshire and Kent who faced each other whilst we faced Middlesex. Sadly, Middlesex had to concede the first match due to a player being unwell, which left our second pairing, the dynamic duo of Salysa Mason and Maisie Hassall bringing in yet another point in the foursomes with a 6 & 5 win. Ellen Nicholas first out in the singles and after being 2 down on the front nine turned it around winning on the 15th. Elodie was up against it with an 'in form' Middlesex junior, who birdied 3 holes in a row, to lose 4&3.
But no one was prepared for the drama that followed! Kent had beaten Hampshire 3-2, Sussex and Kent had identical match scores and game scores, and we needed at least a half point from the only match left on the course, or we would lose to Kent, as they had beaten us on the first day!
Sasha was 1up with 3 to play, so all was looking good for Sussex! But a birdie on 16 & a par on 17 for Middlesex meant Sasha was one down with one to play. By this time all counties players, managers, coaches and spectators were on the 18th hole. Two good drives, but neither girl could reach the green, Sasha laid up to full wedge length, but Middlesex were just short of the green. An aggressive shot by Sasha left her 20ft past the pin, Middlesex then fatted a chip leaving them a 30ft putt, which raced by about 6 ft. Sasha rolled hers up to 2ft, Middlesex then holed out leaving Sasha with a breaking downhill putt to win the championship. A deep breath and a confident stroke, and Sussex had won!


Emotions were high, there were tears, cheers and then a Sussex rush to congratulate Sasha. Sussex had won the 2023 County Match Week and are off to the National Finals in September (Women's County Match Day Finals at Kings Lynn Golf Club in Norfolk from Friday 21st - Sunday 24th September 2023).
An amazing week of great team camaraderie throughout, matches played with good sportsmanship and fine spirit – heads never dropped. The squad was well motivated by coach Ryan Fenwick and they all really valued his daiy group coaching sessions.
My thanks go to coach Ryan for his insight, encouragement and skill in coaching and for being my "rock" throughout the week. To Bali, our President, for all her help and support and to Pat, Vice Captain organising the accommodation and catering.

Thanks to all the caddies and supporters who came up – I know the players really appreciated your support and encouragement. Finally thank you to Kent for hosting such a successful week.
As County Captain it is a huge privilege and pleasure to lead our players in County week.
Jane Covey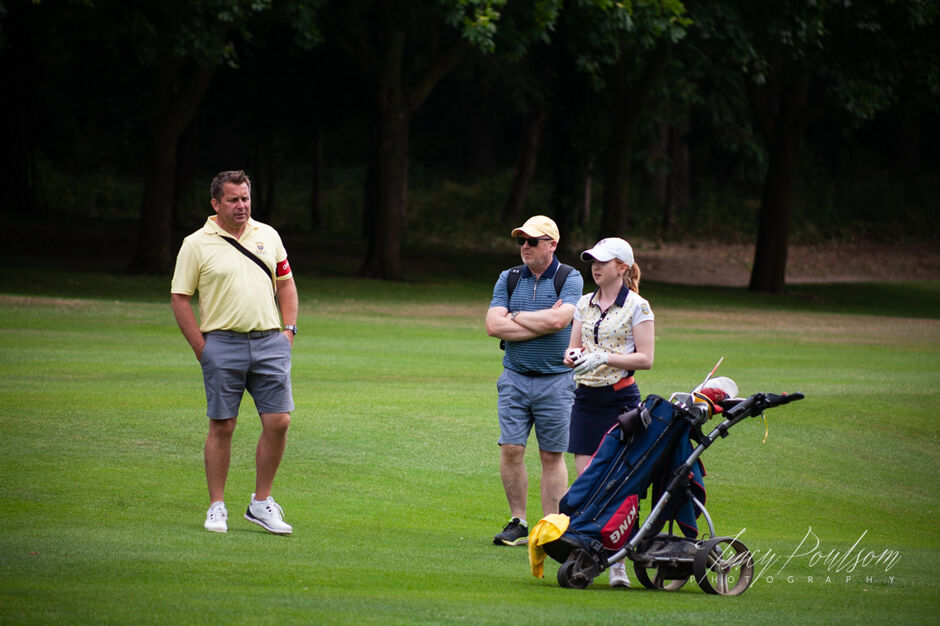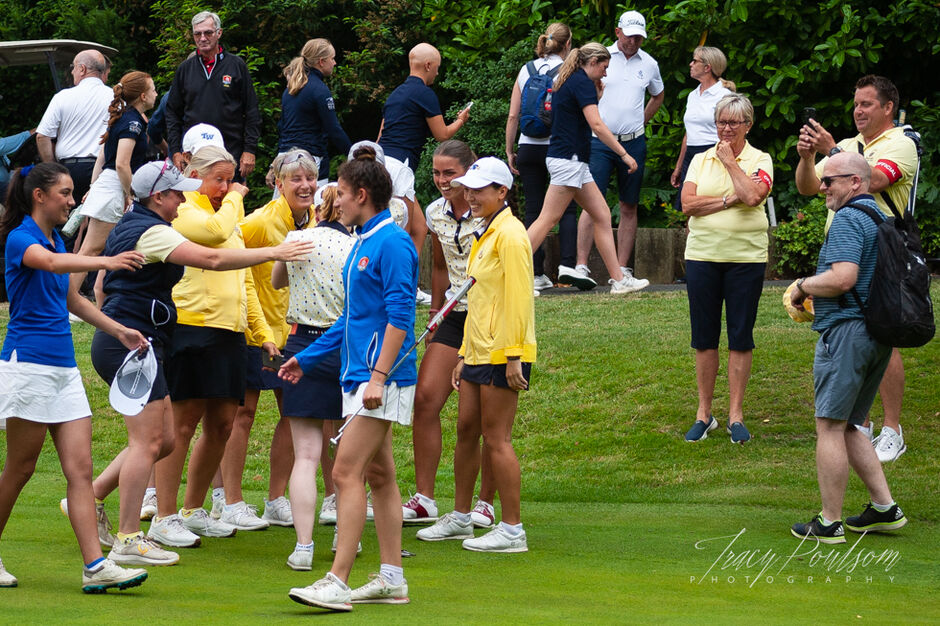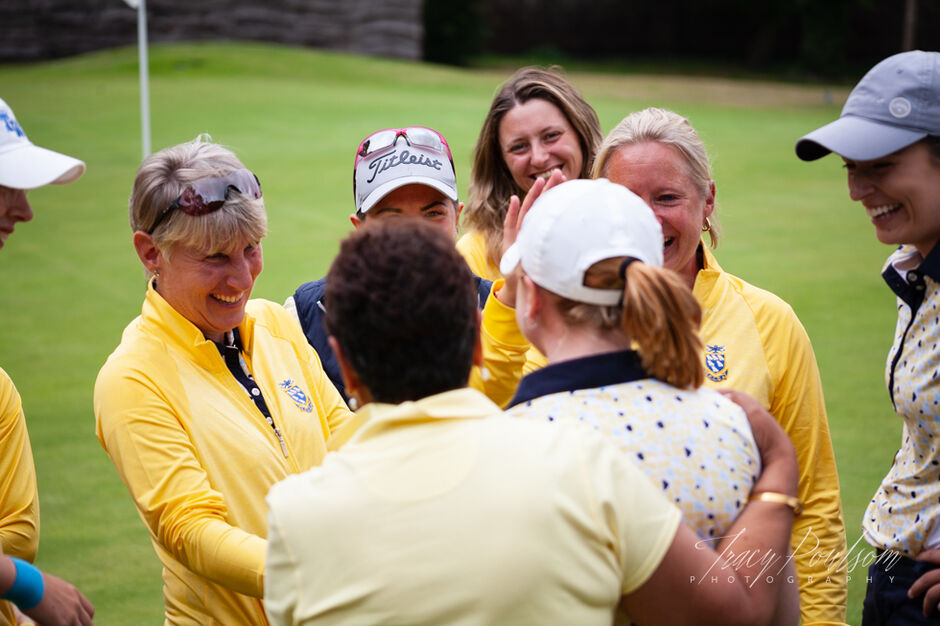 Photographs with thanks 'Tracy Poulsom'
Results Table
| DAY/TIME | MATCH 1 | MATCH 2 |
| --- | --- | --- |
| Monday 26 June Morning | Kent v Surrey: ½ - 4½ | Hampshire v Middlesex: 4½ - ½ |
| Monday 26 June Afternoon | Sussex v Kent: 1½ - 3½ | Surrey v Hampshire: 2 - 3 |
| Tuesday 27 June Morning | Middlesex v Surrey: ½ - 4½ | Sussex v Hampshire: 3½ - 1½ |
| Tuesday 27 June Afternoon | Kent v Middlesex: 4 - 1 | Surrey v Sussex: 2 - 3 |
| Wednesday 28 June Morning | Hampshire v Kent: 2 - 3 | Middlesex v Sussex: 1½ - 3½ |